Weekend Life Class
February 4- 6th (Sat-Mon)
Sally Martin
Weekend Life Class. This is the first of the year. This is an opportunity to work from the model for 3 days. Saturday is an exploratory day drawing from  shorter poses that last  from 2 minutes to 1 hour.  Then longer poses are chosen for Sunday and Monday so painting can take place .  This offers up to 5 hours on a painting  or time to spend  developing a number of drawings and studies. With 7 to the class instruction will be mostly on a one-to-one basis  and tailored to individual needs and experience..  Some of those attending will have been before so it is a matter of developing their work to a further stage.
LEVELS The course is suitable for intermediates and advanced. Some experience with life drawing and painting is therefore essential.However,
Scroll down for further details  and examples of work.
Debs Tilley
STUDIO
The studio is purpose built and very spacious. The lighting is excellent due to a large expanse of roof lights. In terms of equipment studio easels and workstations are provided. Go to this link to see the studio and house.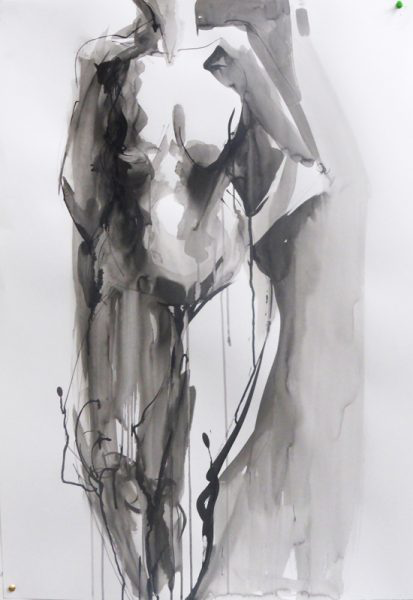 Natalia Bedford
Rebecca Battman
Nick Weaver
Niel Bally Drawing
Materials: Without being over prescriptive this is an opportunity to work on a larger scale.If you do not have your own paints there is a communal supply of oil paints which can be used at a small fee of £6 per day per person. Then there  are  large sheets of paper, ready primed canvases,  surfaces and sets of brushes for sale. When booking it is best to confer with us about materials and what to bring.
Sian Chaloner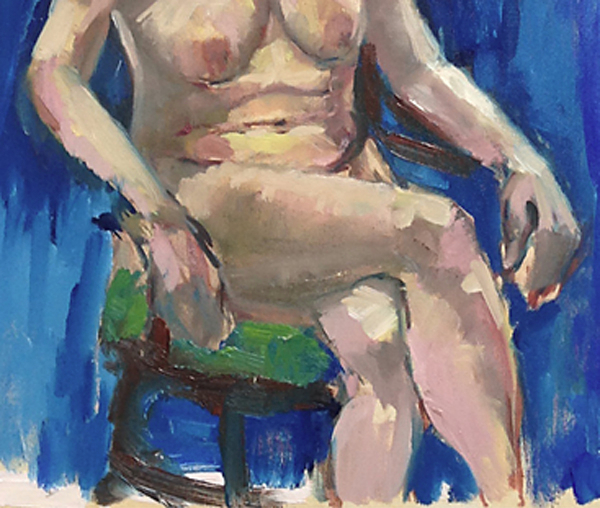 Bridget O'Hara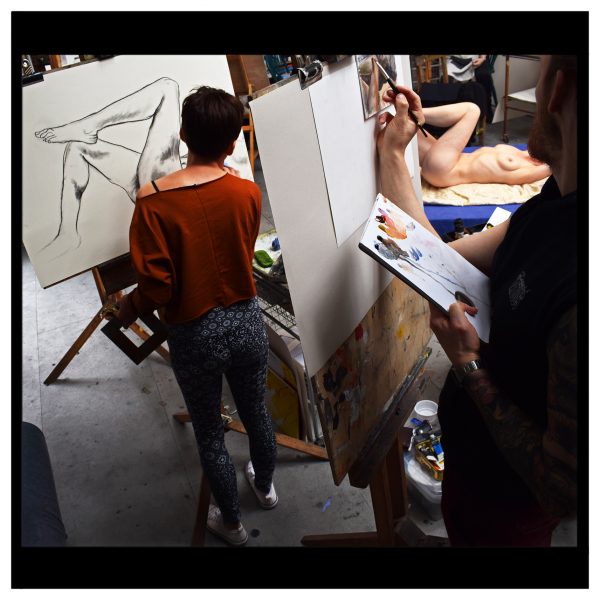 FEES and LUNCH
We have decided not to increase the fees this year regardless of inflation projections of 10% – 15%. Instead we are going to make savings.
For the past few years we have outsourced our main courses to a caterer  and then Sue has prepared vegetables. salads, fruit and bread etc. Outsourcing comes at a considerable cost. We do not want to cancel lunch, as it provides a very welcomed break and is a sociable and relaxing time ,which takes place within home comforts  away from the working studio.
We will now  very wholesome vegetarian soups different on all days. Then bread or baked potatoes plus salad and fruit. If you would like to add  cheese or your own savoury dishes to this, then please bring them along and we can them warm them up for you in the oven or microwave.  The table will be laid out pleasantly  as usual
Refreshments. Coffee ,teas and biscuits will still be freely available through out the day.