There are some excellent Bed and Breakfasts in the area. The closest is the Granary  ( 5 stars ) which  is only 30 yards from the studio and house . Then there is also a good choice of  self catering accommodation, Air B&B , hotels and camping sites.
The properties range from farm houses to town houses,  villages to hamlets.
Prices and facilities vary . If you need any assistance in choosing where to stay just let us know and we will be happy to help you.  Meanwhile  please explore the links and  possibilities on this page.  Talgarth Tourist Information Centre   also have a list of local places to stay . In addition to this there are many Air B&Bs who have recently emerged. If you find something then through our local knowledge we can probably help you make a decision.
Brecon Beacons Holiday Cottages And Farmhouses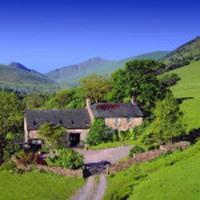 Brecon Beacon Cottages offers an easy to use website with a wide range of  self catering accommodation. To find accommodation near Talgarth. Just enter  Hay-0n-Wye  into the search box, top right and the following link :-       http://www.breconcottages.com/  . Tel 01874 676 446
---
Recommended nearby Accommodation, Hotels and B&Bs
Ray and Joyce Shaw. Tel: 01874 712 101 :
Helen and John Dunne  tel:
+44 1874 711121 or +44 77 40026391
designed lodge with wonderful
facilities and views.
Contact : Brecon Beacons Holiday Cottages.
Self Catering. Sleeps 4 Contact :
Brecon Beacons Holiday Cottages.
name for details and booking with
Brecon Beacons Holiday Cottages.
Contact:Click on house name for details
and booking with Brecon Beacons
Holiday Cottages.
Tel: 01874  676446.Superb views.
Evening Meals. Tel. 01497 847988.
01497 847678
Glasbury. 4 rooms,
some  over looking the Wye.
Coffee shop on ground floor.
Glasbury  HR3 5NJ tel: 01497 842 763.
Nr River , Rural setting email
Self catering Sleeps up to 5.
Email:Evelyn  Tel/fax 01497 851719