COLOUR MIXING & THEORY COURSE
Colour Mixing and Theory is ideal for beginners and a very good refresher for the more advanced . The course will cover the  necessary essentials needed for most visual art practices that concern colour such as,  interior decorating and design , textiles, ceramics,  printing and painting. You do not need representational drawing skills for this course.  The course is purely about colour , how you mix it and how it changes and interacts with in different surroundings and contexts.   So you will learn  how about blending colour,  discording and harmonising it . The course is recommended and has always been popular popular. The fee includes all materials and use of tools and equipment.
In addition  Colour Mixing and colour matching the Course will  practically engage you with what is called "Colour Interaction" This is how you learn to enhance colour and change its appearance by abstraction and you can make something more colourful  and intriging  with less.
The pieces of work you will end up with will become invaluable reference material , as well as works of art in their own right. After working on various tasks the knowledge gained is then put into practice by painting directly from observed objects and backgrounds.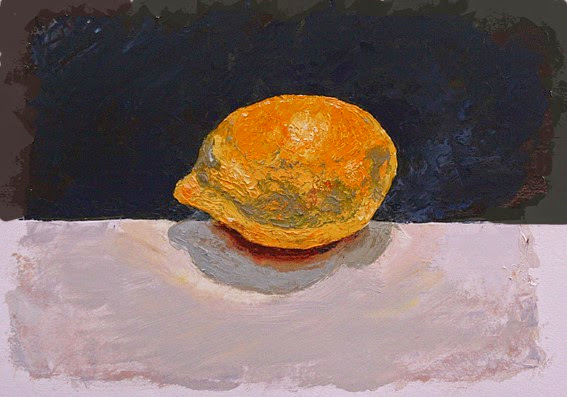 Virginia Brown. Oil on paper. (using 3 colours and white)
Examples of Course work Visit this Gallery 
The examples shown  illustrate what can be achieved by only using white and  the three primaries of red ,yellow and blue. In addition to this all the blacks/darks were made from the 3 primary colours and likewise all the greys.
FEES and LUNCH
We have decided not to increase the fees this year regardless of inflation projections of 10% – 15%. Instead we are going to make savings.
For the past few years we have outsourced our main courses to a caterer  and then Sue has prepared vegetables. salads, fruit and bread etc. Outsourcing comes at a considerable cost. We do not want to cancel lunch as it provides a very welcomed break and is a sociable and relaxing time ,which takes place within home comforts  away from the working studio.
So if you can bring what you would like to eat as a savoury dish we can warm it in the oven or microwave it while you are in the studio. Some may want to share a dish. The table will be laid out pleasantly  as usual with cutlery plates, glasses, salads and bread etc so as to avoid the prospect or sight of everyone eating out of sandwich boxes!
Refreshments. Coffee ,teas and biscuits will still be freely available through out the day.
Some  quotes :
"In visual perception a color is almost never seen as it really is – as it physically is. This fact makes color the most relative medium in art".  Josef Albers
.
"In order to change a color it is enough to change the colour of its background." – Michel Eugene Chevreul
.
"Light is a thing that cannot be reproduced, but must be represented by something else – by colour."–Paul Cezanne
.
"The chief function of colour should be to serve expression." –Henri Matisse
.
"All colours arouse specific associative ideas…" –Yves Klein