WEEKEND PORTRAIT COURSES WALES
3 days –  (2 sitters)  Saturday  – Monday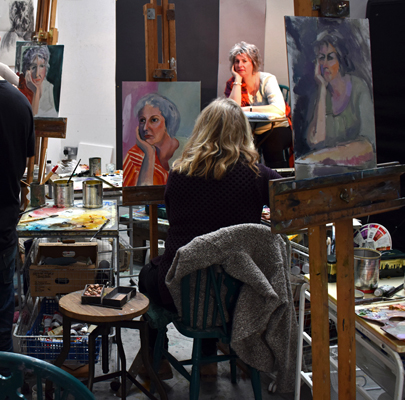 Weekend Portrait Courses (Wales) have the advantage of having two models in the studio sitting at the same time. This  means one model  between 4 people which has the advantage of you being able to study the subject  as close as  5 feet away.  Therefore this is an exceptional opportunity. In many portrait classes you will find yourself  between 15ft or 20ft from the model.  Therefore the  closer you are the better you can  judge proportions, form and detail.
This course is ideal for beginners as well as the more experienced. It is a real chance to concentrate on the nuts and bolts of drawing and/or  painting and how you construct and make a portrait. You also  have a choice of two models to work from.
For  examples of course work  follow this link  https://artcourseswales.com/gallery/portrait-2/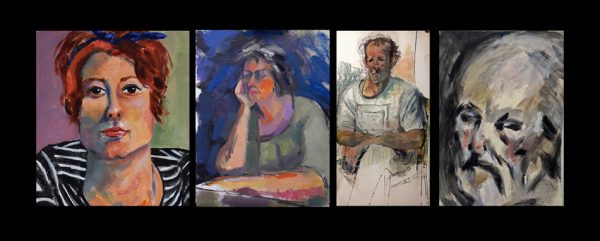 Materials. We have large sheets of paper, drawing materials and various paints and canvases in stock. You can use oil and gouache paints for £6 a day. Otherwise bring materials of your choice. The studio is fully equipped with  8 studio easels, work stations and drawing boards.
Lunch and refreshments are included. Please let us know if you have any special requirements.
Booking& Fees.  This course is  more expensive than a life class  due to  having an extra model. However an "early bird" booking  is £200. Preference will be given to those booking for the full three days. There are a few places set aside for two days.
EARLY BIRD DISCOUNTS  .   There are four places  on each course  for earlybird bookings @ 15% discount. If there happens to be a  last minute cancellation then that place is offered at a discount. The place will be a announced in the news column on the home page https://artcourseswales.com/
Accommodation
Local Art Materials
https://www.pinterest.co.uk/nielbally/portrait-paintings/